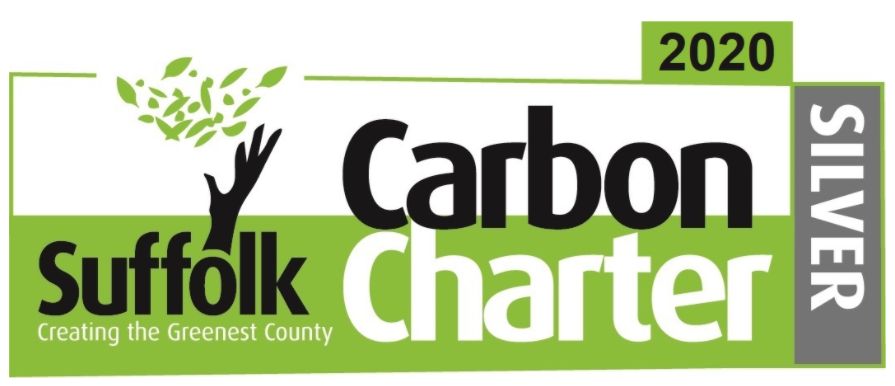 OUR ECO POLICY & AIMS
At Yum Yum Tree Fudge one of our mission statements is to be the most environmentally friendly fudge company in the U.K. Whilst we can't yet achieve every target like single-use plastics, our approach is a whole business approach and is MUCH more meaningful.
We entered the Carbon Charter and right away we were awarded with the Silver Award for the efforts we have achieved so far, we aim for the Gold Award naturally.
PACKAGING – we are looking into single-use packaging, but we need a sealable bag, which discounts many products and the compostable bags only last 9 months so we can't use them. For now, we must stick with a plastic that is recyclable and is very small and thin. We will continue to review these once alternatives come onto the market. For now, it is more important to ensure our bags are recycled, so we strongly advise our customers to do that. The bags are labelled recyclable.
We then have our gift bags which are made with recycled paper and our bag for life which is made of jute.
ENERGY – we only use energy suppliers that provide 100% renewable energy from solar and wind etc. We currently use a company called Bulb. In addition to that, we also have our own solar panels that power most of our electric needs and use solar tubes to heat our hot water too! We are so efficient that after our feed-in tariff payments we end up with a net-zero electric bill! We, therefore, use 100% renewable energy.
TRAVEL – We have cut down our long-distance shows and now operate mainly within 1 hour travel times to most events. We have also just bought our first Zero-emissions vehicle, the Renault Kangoo Van 33 Zero emissions, November 2019. This represents a £20,000 investment in zero-emission vehicles, which will replace our current diesel vehicles. They will also be run off our solar or charged mainly from renewable energy from Bulb. As of January 2020, we have just invested £22,000 in the Nissan E-NV200 full electric van with zero emissions.
LOCAL SOURCING – We avoid cheaper imports and only use British sugar, milk and British or Irish butter. We use local ingredients wherever we can, even if it costs a bit more.
THE IMPACT OF DAIRY ON THE ENVIRONMENT – We do use a lot of dairy which can impact the environment, so in 2018 we created a plant-based range of Coconut Milk Fudges and in 2020 new Oat Based fudges. So far, we are selling a small range of flavours direct to consumers, which will increase over the years once we have resolved the shorter shelf-life issues.
Below is our new Renault Kangoo 33 Z.E Van, Wrapped in our Brand for the New Year of 2020